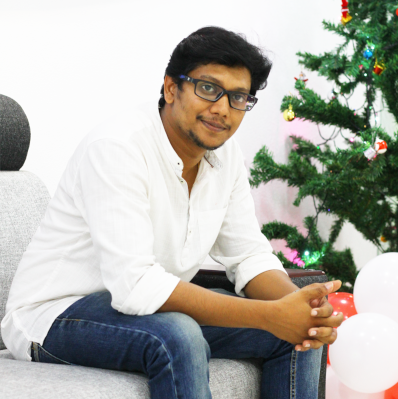 © 2023 All rights reserved.
About Me
Hello, I'm Manu Krishna!
I am an electronics and instrumentation engineering graduate turned software engineer driven by passion. My professional journey started as a java web developer in 2010, and been a part of several projects in various technologies over the span of 12+ years, handling responsibilities as project manager, solutions architect, a team member as well as sole player. Flexibility to learn and implement technologies as per requirement, helped me get diverse experience and understand end-to-end software development cycle. It also enabled me to be a full stack developer, providing me with opportunities to gather client requirements, design, develop and deploy projects. 
I may not be a master of all technologies, but I am eager to learn new technologies, roles and requirements and implement them efficiently and effectively. Throw a requirement at me and I can assure you that I will find a solution without compromising on quality. The confidence and dedication to learn new technologies are my best assets. 
To stay current with industry trends and spot new opportunities, my experience also includes conducting market research and competitive analysis. It also includes ensuring compliance with pertinent e-commerce laws and regulations, such as those pertaining to consumer protection, data security, and privacy. Also, I have taken part in architectural debates and offered technical solutions to difficulties in business that are connected to software development and e-commerce.
I constantly look for methods to streamline operations and boost effectiveness, and I have a solid track record of locating and resolving technical problems all the way through the software development lifecycle. I have also taken part in the preparation and execution of software releases and deployments, ensuring seamless and effective rollouts with the least amount of user disruption possible.
Technical Skills
Web Server Configuration
70%
Project Deployment (DigitalOcean, AWS, GCP)
80%
Magento 2 (Opensource/ Commerce Cloud)
90%